3 on 3 Spring Development League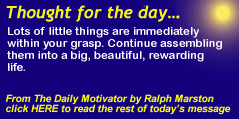 Pick-up basketball is a great place for players to build their game by playing against other players, maybe that are bigger or better, and testing their skills in an open environment. Other lessons are learned like getting along with others, conflict resolution, and the will to do your best - because if you don't your team steps oiff and ..."who's got next?"

Teach young playters Skills not Systems. They need to learn how to play & make play-not just run plays. Do this in practice thru dynamic games and competitions, rather than static drills, to allow them to discover their abilities. Keep this level fun so they continue to come back and equate basketball with a great time!

High School basketball is still educational based athletics. Even though it looks like pro sports it has a different mission. Coaches need to continue to strive to win, but understand the greater goal is to teach players some life-long lessons they can use long after the ball stops bouncing.

Basketball can provide an avenue for social mobility and open doors to colleges players may not have thought of, gain admission to schools they may not have gotten into, get financial assistance to attend those schools, and connect them with others who can help them after graduation. Players should begin to prepare for this early and make sure their academics are in order.

NBA D-League, the PBDL, and the new ABA are all leagues where players can continue to compete and some can develop to the extent they get looks from higher professional leagues.

By the time you see players at this level they've put in 1000s of hours into their game. The time to start is NOW!

WHY

3 on 3?

More Space

More Touches

Easier Decisions

Involves All 3 Players

More Scoring Opportunities

Eliminates Presses and Zones

Breaks the Game into Small Parts

Teaches Players When to Use a Skill​

3 on 3 games Make Basketball More Fun 

All This Means More Player Development Too

1. More Touches 

Fewer players on the court means each player will receive more touches of the basketball... 

The more touches each player gets the more opportunity they have to make decisions and work on their skills in a competitive situation... 

The more opportunity a player has to make decisions and work on their skills in a competitive situation the quicker they improve at making the smart basketball play... 

Basically, the more touches the better! 

2. More Opportunities to Score 

What kid doesn't love to score? Or at least the opportunity to score for their team? 

We all see kids sprint up to their parents after the game with a smile on their face and enthusiastically tell them how much they scored that game. Does it mean they're bad teammates because they're worrying too much about scoring? No. They're young. That stuff will come later. 

At a youth basketball age we just want them to love the game! 

3. Involves All Players 

It's easy for players to hide in a game of 5 on 5. It's not so easy for them to hide in a game of 3 on 3. All players have to contribute.

Unfortunately, in a typical 5 on 5 game played at a youth level, usually only a couple of players will dominate. They'll control the ball most of the time and take by far the most shots (usually because of coaches that want to win). 

What does that mean for the other players? Rarely will they ever have a chance to bring the ball down the court or take a shot. They'll end up shying away from the game and standing in the corner. It won't be long before these players quit basketball forever. 

This doesn't happen in 3 on 3. It gives all players an opportunity to develop and everyone has to be involved! 

4. More Space 

An increase in space allows players to get off shots and try different moves without immediately running into a wall of players. 

As we've all seen countless times, players are drawn to the basketball like a magnet leaving very little room for the player with the ball to be under control and practice anything. 

Extra space on the court allows players to be creative and practice their skills because there's less congestion. 

5. Easier Decision Making 

Players will make better decisions when there are fewer players on the court as there are less options to consider. 

We want to start off with only a few options (3 on 3) and then build up from there when they begin to get a feel and understanding for the game. 

6. Breaks the Game Down into Parts 

To avoid confusion you have to break the game of basketball down into parts when teaching it. 

It's difficult to introduce the pick and roll to players in a 5 on 5 game. There's too many options and other players when all you want the players to be focusing on is how to run the pick-and-roll. 

3 on 3 allows players to learn small parts of basketball without being too confusing. They'll really learn things like the pick and roll, dribble hand offs, screening away, how to back cut, how to v-cut, etc. 

7. Eliminates Defensive Presses and Zones 

Is there anything worse than trying to score against a zone defense. In 3 on 3 games you don't have to worry about zone defenses or beating a press. 

It's best for players to first learn how to play in the half court in a slowed down game where they have to make smart decisions before they start learning how to play a fast break style game forced on by full court pressure defense. 

8. Teaches Players When to Use a Skill 

If all coaches run at practice are drills that work on technique without any opposing player, then when the player faces competition, they won't know how to use the skill they were taught. 

Technique drills are great for just that... technique, but players must learn when and how to use the skill in a competitive environment. 

Small-sided games allow players to put the skills they learn in technique and practice drills into competition and then learn from experience by being in positions that allow them to make decisions.

Conclusion 

If you look closely at all the reasons, you'll notice an obvious reoccurring trend... 

3 on 3 games make the game of basketball much more fun for basketball players! 

Increased development and more fun at the same time? That sounds like a win/win situation to me! 

with                      and

SUNDAY AFTERNOONS games between 1PM and 4PM

APRIL 10 - MAY 22 (Mothers Day off)

$75/player includes reversible jersey

Divisions: HS Varsity, Junior Varsity, D1 (Grades 6-7-8), D2 (Grades 4-5-6)

Teams of 4 players. Enter as an Individual or with your own team of 4

Coach directed Warm-Up & Small Group Instruction, followed by three 10 minute games.

Players call there own fouls. Coaches will moderate officiating​ on all courts

Players will sub on their own and coach their own teams during games. (tennis parent rules)

​Rules developed for maximum player development & understanding of the game

Objective is to teach players to play rather than how to run a play!

​FOOD FOR THOUGHT 

Parental Guidelines from Youth Tennis

League Tennis Matches

No coaching of any kind is allowed; saying, "Move your feet" or "Hit to her backhand" is considered coaching; so are hand signals!

No cheering is allowed other than polite clapping after a good point

Do not clap after an opponent's error such as a double-fault or easy miss

Parents/coaches are not allowed on the court during a match

Parents are not allowed to speak to their child during a match, not even to ask if they need something to drink

Players must bring their own drinks and snacks onto the court – they are not allowed to ask their parent to bring them a drink or snack during the match though they may ask another parent or their team's captain to do so

If there is a dispute between the players regarding a line call or the correct score, the players must settle the dispute themselves; parents are not allowed to intervene (in extreme cases, a team captain may intervene)

USTA Sanctioned Tournament Matches

The League Tennis tips apply here as well

If there are tournament officials (referees and/or umpires) available, one or both players (NOT parents!) may ask for an official to help resolve disputed line calls or scores; the official's decision is binding though it may be later appealed to the main Tournament Umpire or further up the chain to the Section's Head of Junior Competition

USTA rules of behavior are enforced by tournament staff and officials; violations may be penalized with warnings and/or point penalties and/or suspension points; poor behavior BY THE PARENTS may result in the PLAYER receiving a point penalty or suspension point; 10 suspension points within one calendar year equal a 3-month suspension from all sanctioned tournament play

It is in your and your child's best interest to be respectful and friendly toward all tournament staff, including the on-court officials; believe me, I speak from personal experience!

High School Tennis Matches

Cheering is allowed and encouraged though parents and fans are advised to keep the cheering polite and friendly

Coaching is allowed BY THE TEAM'S COACH at the side changes and at the end of each set

During the regular season, officials are not typically present, so players must resolve their own disputes

During playoffs, officials may be present; therefore, USTA rules of behavior may be enforced, including assigning suspension points for poor behavior and/or rule violations

​SKILLS TO BE TAUGHT

Appropriate passes for each situation

Getting open on the perimeter and in the post

Spacing and floor balance

Effectively setting and using screens

Pick and Roll or Pick and Pop

​...and MORE!

$75 per player

Includes \Reversible Jersey

"the best way to learn to 

how to play basketball 

is three on three"

--Steve Nash

Each team member

must also register individually